What's coming up

Hi All,

Just a quick note to remind you what's coming, this week is the great Jon Allen. Due to Romany being unable to make her lecture Gordon has managed to get John Archer to lecture for us.

24 June 2010
Lecture - Jon Allen*.

8 July 2010
Children's Competition.

22 July 2010
Lecture - John Archer*.

12 August 2010
Alfresco night

Midsummer nights dream is still on until Saturday, it's great fun and is getting very good reviews so if you want to see it book soon.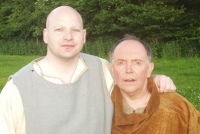 See you soon.
Stu

General news

I received this email recently, can any of you guys help, if so let me know and I'll put you in touch.

Dear Chairman,

I have a very intersting photo of the Glenside Hotel, taken in around 1910. On a recent trip to Brighton (I now live in Sheffield) I spent some time trying, and failing, to locate this building. My interest is in architecture and local history and I have discovered through internet searching that the hotel was the original venue for the Sussex branch of the Magic Circle. Would you know if the building still stands and if so, where it might be?

Kind regards,

Kate Billington


Quick Links
What's coming up
General news
---
E-Update
Feedback
Subscribe
|UnSubscribe|
Archive

---
SMC Site
Items for sale
Magic Week
New & second user magic
SMC Diary
Facebook Group